Touch-A-Life Foundation 2020 Heroes
Touch-A-Life Foundation is proud to honor those individuals who strive to make a difference in their communities.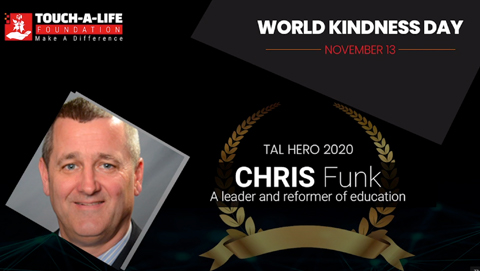 Recognized for his undying efforts to make the dream of world class education a possibility, regardless of any disparities.
Chris Funk
A leader and reformer of education
Chris Funk, a native of San Jose… has graduated from Lincoln High School in 1985 and had a great honor of returning to the same institution as principal. During his tenure as principal at Lincoln, the school earned a 21st Century School of Distinction, Lighthouse Award, California Distinguished School Award, a six-year WASC Accreditation and closed the achievement gap between Hispanic and white students by 106 points, a 40% decrease in the gap.
His career in education has started as a teacher with the East Side Union High School District in 1990, and he has returned as the Superintendent with the goal of eliminating the "Opportunity Gap" by holding the entire organization responsible for attaining the goal of providing every student… a world-class education regardless of their economic, gender, or cultural background.
Chris is a member of the Board of Directors for Educare Silicon Valley, the East Side Education Foundation and East San Jose Kiwanis. He is also a member of the Advisory Board to `10,000 Degrees'… a rare organization that has been helping students from low-income backgrounds get to and through college.
Touch-A-Life Foundation recognizes Chris Funk as TAL Hero 2020, for his innumerable services in the field of education for more than three decades… shaping the future of thousands of students.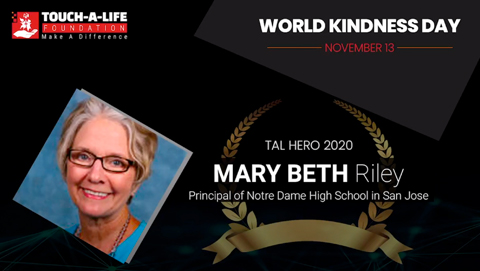 Recognized for her services in the field of women education and empowerment.
Mary Beth Riley
Notable educationalist and champion of women empowerment
Mary Beth Riley is currently the principal of Notre Dame High School in San Jose, the oldest private high school for women in the state of California dating back to 1851. For more than 30 years, Mary Beth has served as a faculty member, teaching French, and an administrator at Notre Dame. She built an enrollment base in the early 2000s that is sustained today at maximum capacity. Her work as head of school has included strengthening school leadership, building the board of directors, adopting a campus master plan, and developing strategic vision and capital funds for long term sustainability… which all led to the strengthening of a rare institution.
Under her leadership, construction of the Center for Women's Leadership was recently completed on the Notre Dame campus. She has also spearheaded the development of programs that, in addition to preparing young women for college and life beyond college, foster a deep understanding of social justice in a global community. She has been recognized by the Silicon Valley Business Journal as a Woman of Influence and received the Educational Excellence Award from the National Catholic Educational Association.
Touch-A-Life Foundation recognizes Mary Beth Riley for her efforts in strengthening an age old institution and being a steady source of mentoring thousands of students.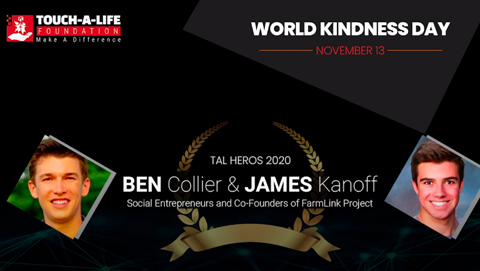 Recognized for their inspiring social responsibility which has fed innumerous souls during the pandemic.
Ben Collier & James Kanoff
Social entrepreneurs and co-founders of FarmLink project
Ben Collier and James Kanoff didn't keep whiling as their studies were disrupted by the pandemic. These college students have instead found a unique way to make use of their leisure time to help the needy. They along with their friends have found and organization called FarmLink. It raises money from donors in order to pay farm workers to pack surplus food which might be wasted and drivers to deliver the load to the distribution sites.
An estimate reveals that more than 20 billion pounds of produce is lost on farms every year in the US. This might be due to various reasons such as unavailability of labor, lack of demand and of course emergencies like lockdown which could obstruct the farming at many levels. This is where FarmLink has stepped in to create an impact. FarmLink volunteers have built databases of farms that are willing to donate surplus products and the food banks near them… and of course turned to be a bridge between them!
By November 13, 2020… more than 14 million pounds of farm products were delivered with the help of FarmLink, which could roughly convert to 11 million meals. That's Huge!
Touch-A-Life Foundation recognizes Ben Collier and James Kanoff for their exceptional way of finding a way to combat hunger during the precarious pandemic time.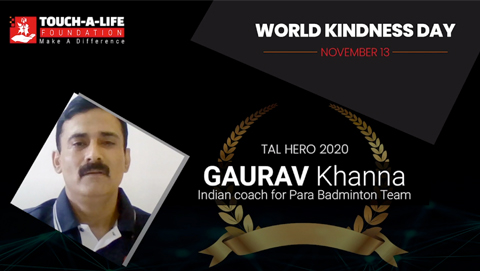 Recognized for his momentous efforts in coaching Para Players and changing their lives.
Gaurav Khanna
Indian coach for Para Badminton Team
45 year old Gaurav Khanna from lucknow, was always passionate towards Badminton. He rose to the National Level and was aiming to become a world champion, but fate deceived him. A knee injury has forced Gaurav to end his career. Gaurav was offered a government job; however his passion for sport didn't fade away.
Gaurav has decided to help disabled people to conquer the Badminton court. He started coaching people with hearing impaired. He learned their Sign Language and made them hear the sweet sound of success. The triumph of Gaurav has given him the chance to coach the Asian team as well.
His Journey with `Para Badminton National Team` has started in 2014 and medals started pouring in. In the year 2019 itself, his trainees has won 126 international medals. Parul Parmer, Manoj Kumar and Pramod Bhagat… the Arjuna Awardees in Para Badminton are few of his proud trainees. Many of his players have reached World Number One position at various levels.
Touch-A-Life Foundation recognizes Gaurav Khanna as 2020 TAL Hero for his dedication in coaching disabled sportsmen and giving them the wings of confidence.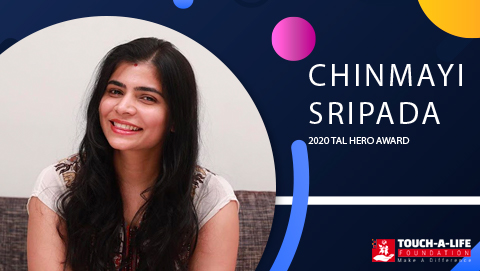 Recognized for her social service and offering significant help to the needy during this pandemic.
Chinmayi Sripada
Versatile singer and social activist
With more than a thousand songs in eight languages, Chinmayi Sripada is the face of young Indian Talent. But her passion does not just include singing. Chinmayi is a successful entrepreneur. Resembling the power of Women Empowerment, she has been successfully running two companies... Blue Elephant and Isle of Skin. Chinmayi was recognized by none other than the US State Department as one of the talented entrepreneurs across the globe.
If a singer turned entrepreneur is a unique combination here is the real surprise. Chinmayi loves activism. Her work with foundations such as 17000 ft organization has proved her to be a beautiful soul. She is known to make albums purely to help NGO's such as `Ma Niketan'… an orphanage in Maharashtra. Chinmayi has raised more than a hundred thousand dollars during the lockdown by singing songs on personal requests. More than 1,500 families benefited from her project.
Chinmayi is much more. Her YouTube series 'Conversations with Chinmayi' were made to promote indigenous arts, women empowerment, and health.
Touch-A-Life Foundation recognizes Chinmayi Sripada for taking time and patience to stand still despite her busy life, and observe the suffering of fellow humans.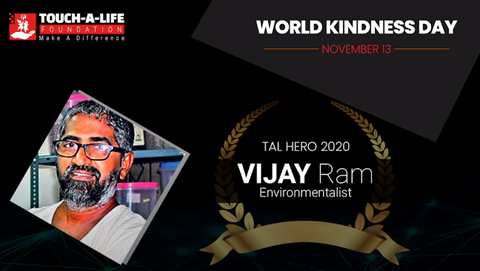 Recognized for his life dedicated to the environment and efforts to spread the message of conservation.
Vijay Ram
Environmentalist, Founder of 'Society for awareness and Vision on environment' organization
Vijay is a die-hard environmentalist from Hyderabad of India. On the professional front, he is the owner of the famous eateries `Emerald Sweets' in Hyderabad. He is an ecologist by passion. Vijay was moved by the fact that the advent of Genetically Modified Seeds has driven the natural seeds away. He has started a movement to regenerate the extinct seeds and distribute them to farmers free of cost. He proved that natural farming could be possible with just 8 dollars per acre.
In 2006, Vijay established an NGO called `Society for awareness and Vision on environment` S.A.V.E to turn his passion into a revolution. S.A.V.E has conducted numerous workshops and seminars to encourage and lead farmers to better farming practices.
Vijay dedicates most of his time to guiding people for better farming. In times when farming is felt to be a failing profession, hundreds of landowners are turning their dry lands into food mines with the help of Vijay.
Touch-A-Life Foundation recognizes Vijay as a rare personality who has not only committed to an organic way of living, but has been devoting his life to spreading awareness.
Touch-A-Life Foundation 2019 Heroes
Touch-A-Life Foundation is proud to honor those individuals who strive to make a difference in their communities.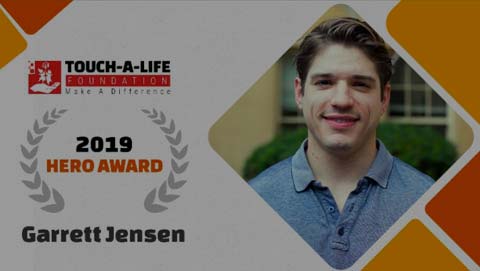 Recognized for his extraordinaire efforts in helping the community impacted by Type 1 Diabetes.
Garrett Jensen
Committee Co-Chair of the JDRF One Walk
At age 13, shortly after being diagnosed with Type 1 Diabetes (T1D), Garrett attended his first JDRF One Walk. JDRF offered him a support group. People who knew what he was going through, and offered him encouragement and knowledge. Since that first event, Garrett has been heavily involved in the community. Organizing teams for the annual JDRF One Walk and volunteering with organizations that serve families impacted by Type 1 Diabetes. He is nominated by his colleagues who say Garrett is a volunteer extraordinaire connecting many different pieces to make a huge impact in the community.
Touch-A-Life Foundation recognizes Garrett Jensen as a 2019 TAL Hero for his impact on the local community and the kindness he spreads to those impacted by Type 1 Diabetes. We applaud Garrett's work as the Committee Co-Chair of the JDRF One Walk.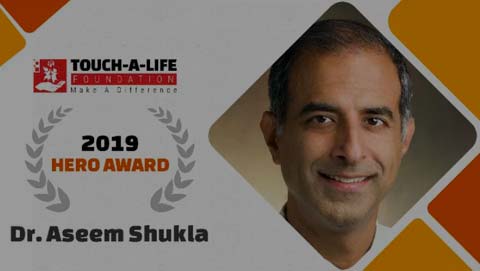 Recognized for his outstanding contributions towards the community affected by urological diseases.
DR. Aseem Shukla
Director of Minimally Invasive Surgery at the Children's Hospital of Philadelphia
For more than a decade, Dr. Aseem has been making his mark in the field of urology. Currently, he is the Director of Minimally Invasive Surgery at the Children's Hospital of Philadelphia. Dr. Aseem's passion for alleviating the global burden of surgical disease led him to organize and demonstrate at live surgical workshops. These workshops spanned worldwide throughout Asia, Africa, South America and Europe. In its 10th year now, the collaborations between leading American children's hospital and India's most respected pediatric surgeons has been growing strong! Each surgery takes almost 12 hours to perform. Till date, nearly 200 children from India, Nepal, Bangladesh, Pakistan, Kenya, Uganda, Turkemenistan, Iran and more, have received life-changing surgery in India for absolutely no charge, as a result of the collaboration. Dr. Aseem is nominated for his outstanding contributions in the field of urology.
Touch-A-Life Foundation recognizes Dr.Aseem Shukla as a 2019 TAL Hero for his impact on the local and international community and the kindness he spreads to those impacted by urological diseases. We applaud Dr.Aseem's work as the co-founder of the Hindu American Foundation and Assistant Secretary of the American Urological Association in developing pediatric urology as a discipline globally.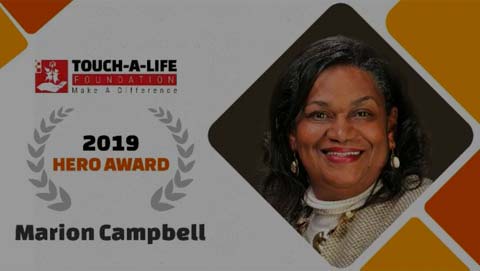 Recognized for her exemplary activities impacting the education and workforce sector.
Marion Campbell
Executive Director and Co-founder of Eddie's House and The ABLE Center
Marion Campbell is on a mission to empower lives by providing the disenfranchised members of our society a sense of belonging, a sense of self-worth and hope. For over 10 years Marion has tackled issues of homelessness, food insecurity, and supporting the underprivileged. She has overseen a variety of community programs, helping with job placement, education, fundraising, and shining a spotlight on the troubles facing the disadvantaged in our country.
Touch-A-Life Foundation recognizes Marion Campbell as a 2019 TAL Hero for her work as Executive Director and Co-founder of Eddie's House and the ABLE Center where she has touched so many lives through her outreach, donations, and advocacy.
Join hands with us
You can't help everyone, but everyone can help someone. Touch-A-Life facilitates donations in Kind, Time as well as, monetary funds. This allows everyone to help where they can and connect with causes they care about.
Join TALScouts